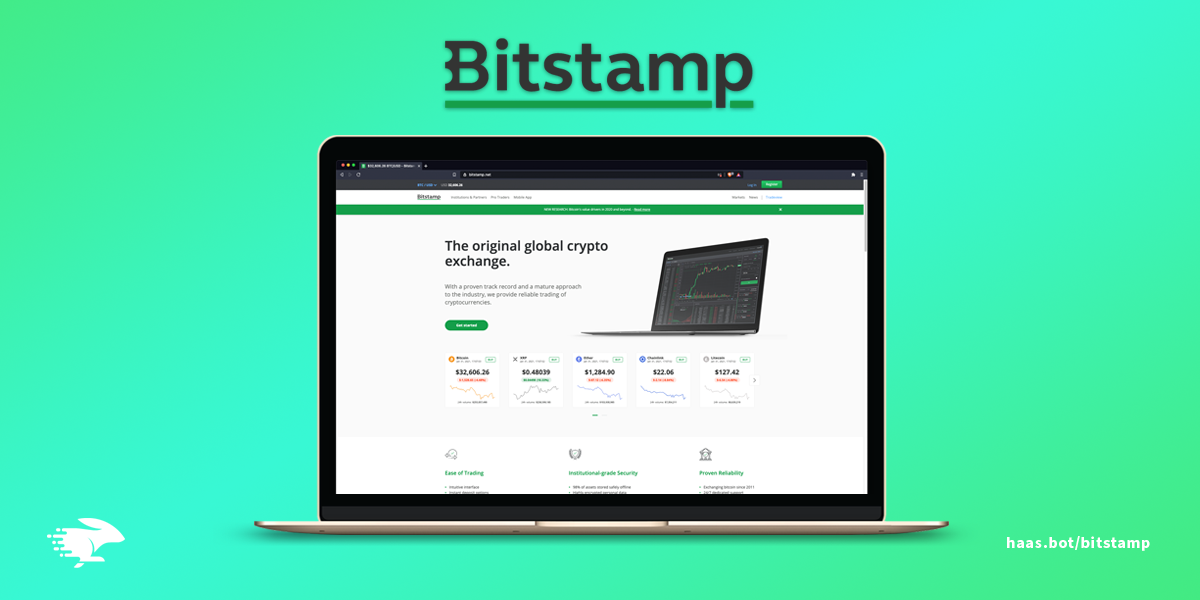 Estimated reading time: 0 minutes
Trading digital assets is a process that requires a strong, trusting partnership with a cryptocurrency exchange. With over 100 different exchanges to choose from, you'll need to search carefully for an exchange that matches your trading needs with a simple and repeatable process. This Bistamp review walks through the history, features, and reliability of one of the world's most veteran cryptocurrency exchanges to help you determine if it is the best fit for you.
What is Bitstamp?
Bitstamp is a stalwart of Europe's cryptocurrency markets. As the oldest active cryptocurrency exchange and one of the largest in the world, it boasts a solid reputation established through years of successful operation and customer support.
Bitstamp was founded in early 2011 by Nejc Kodrič and Damijan Merlak in their home country of Slovenia. The two business partners founded Bitstamp as an early rival to the then-dominant Mt. Gox with an emphasis on security for people exchanging Bitcoin in Europe. They understood the importance of safety and security in building an exchange that their customers trusted.
After starting with just €1,000 and a couple of laptops in a Slovenian garage, the pair quickly grew Bitstamp into a staple within the European cryptocurrency community. In 2013, they relocated to London so they could be in the middle of Europe's banking industry. However, they found that London did not provide the regulatory support they needed to grow a trusted and secure exchange. They relocated once again in 2016 to Luxembourg, where they were officially licensed as a payment institution, allowing them to do business in all 28 member states of the European Union.
In October of 2018, Nejc Kodrič announced Bitstamp's purchase by the Belgian investment company, NXMH. He stated that Bitstamp had been approached by many potential suitors over the years, but did not feel that any of them would uphold the mission and standards on which Bitstamp was built. They did finally decide to sell to NXMH because he was assured the "mission, leadership, and vision of the company remains the same," during a pivotal time in the industry where consolidation makes sense.
Many Bitstamp reviews mention a small blemish in Bitstamp's security record. In January 2015, they briefly shut down operations after their operational wallets were compromised. This breach resulted in the loss of 19,000 Bitcoin, leading many to ask, "Is Bitstamp safe?". They reassured their customers that the vast majority of their reserves were untouched and safely kept in cold storage — offline servers far from the reach of cyberattacks. Since then, they've continued to increase their security measures with two-factor authentication and additional cold storage insurance to provide more protection for their customers.
Getting Started with Bitstamp
Over the years, Bitstamp has refused to spread themselves thin across many different altcoins. Instead, they've concentrated their attention on creating a robust platform to trade only a few established cryptocurrencies. Bitstamp's platform includes enough tools and data for the most experienced traders to execute their strategies while also offering plenty of information and clarity for people who are brand new to cryptocurrency and searching for their first trade.
Account registration
To start trading on Bitstamp, you'll first need to set up an account. On the Bitstamp homepage, you can click either "Get Started" in the middle of the page or "Register" in the top right corner. Select the account type you're registering for (personal or corporate) and enter your first and last name and your email address. Bitstamp will send you an account verification link to your email, which you'll need to follow before you can set a password for your account.
After setting your password, Bitstamp will auto-generate a username for your account. You can either use this username or your email address to log in when you come back to trade. You'll then be ready to start the Bitstamp verification process.
Bitstamp verification
Verifying your account includes providing proof of your identity and address to Bitstamp so you can make bank transfers. After you log in, you'll need to provide your country of nationality as well as your permanent address. For some countries, you might also have to provide additional information (like your Social Security Number if you live in the United States). You'll then need to verify your identity with a photo of a valid passport, driver's license, or another government-issued ID card.
To finish the Bitstamp verification process, they will ask you a few questions about if and where you work, how much you plan to deposit to your account in a year, and how you plan to use Bitstamp. Having this info will allow Bitstamp to curate your experience to best fit your needs.
Depositing funds
Before you can start trading on Bitstamp, you need to deposit funds into your account. Bitstamp's user interface makes the process simple. Once you navigate to their deposits page, you'll have the option to add funds in either Euro, USD, or any of Bitstamp's supported cryptocurrencies that you already hold.
If you are a European citizen, a SEPA transfer is the simplest method. If you're outside the EU, you can also set up a direct bank transfer into your Bitstamp account if your funds are either in Euros or USD. You'll also have the option to use a credit card, but Bitstamp warns that it may be processed as a cash advance by your card issuer which usually comes with additional fees and interest.
Generating API key
Bitstamp's powerful trading API allows you to access and control your account with custom-written software. The Bitstamp API reliably compliments the use of automated trading strategies executed by our Bitstamp trading bots. Before you can set up your automation, you'll need to generate an API key and secret, which serve as a username and password for software automating your account.
To generate your Bitstamp API key, you'll need to navigate to your Account page, then select "Security" then "API Access" from the menu on the left. If you already have an API key and need to create a new one, you should click "New API Key" in the top right. If this is your first API key on Bitstamp, you'll be taken directly to the setup page where you'll see a list of permissions.
To use our automated trading bots with Bitstamp, you'll need to select the following permissions:
Account balances
User transactions
Open orders
Cancel orders
Buy limit/market orders
Sell limit/market orders
Once you've done so, click "Enter 2FA and Submit" if you have two-factor authentication enabled. Once you enter your 2FA code from the Google Authenticator app, Bitstamp will generate your API key and secret. You should record them and store them in a safe place. Finally, you'll need to activate the API key by pressing "Activate" on the right. You'll receive an email with an activation link, which expires one hour after it is generated.
Bitstamp's Main Features
As the world's oldest cryptocurrency exchange, Bitstamp offers a streamlined and proven process for buying and selling a select number of currencies. Their system allows for easy trading with no limits on withdrawals and the ability to cash out directly to your bank account. Their first-grade security holds 98% of assets in cold storage and utilizes security measures like two-factor authentication and PGP encryption for any uploaded documents. They are also audited annually by one of the Big Four accounting firms to ensure their own financial responsibility and transparency for their customers.
Bitstamp also offers a number of advanced trading features including a powerful trading view with non-stop availability for both individuals and institutions. Their range of APIs allows users to deploy advanced trading strategies and integrate with other trading tools like the HaasBots.
Support Currencies
Bitstamp intentionally limits the number of currencies they support in order to maintain stability and reliability for their customers. Currently, they support only five cryptocurrencies.
Bitcoin (BTC)
Bitcoin Cash (BCH)
Litecoin (LTC)
Etherium (ETH)
Ripple (XRP)
These options are great for new traders and professionals who are content to do business in only a few established currencies. However, if you are hoping to trade the newest altcoins and diversify to many different cryptocurrencies, Bitstamp is not the place to do it.
Bitstamp Fees
Bistamp's fee tiers are based on the total amount you trade over the previous 30 days up to the moment of your next trade. These are the tiers for Bitstamp fees:
Trading Fees (all pairs)
Fee% / 30 days USD volume
0.50% / < $10,000
0.25% / < $20,000
0.24% / < $100,000
0.22% / < $200,000
0.20% / < $400,000
0.15% / < $600,000
0.14% / < $1,000,000
0.13% / < $2,000,000
0.12% / < $4,000,000
0.11% / < $20,000,000
0.10% / < $50,000,000
0.07% / < $100,000,000
0.05% / < $500,000,000
0.03% / < $2,000,000,000
0.01% / < $6,000,000,000
0.005% / < $10,000,000,000
0.0% / > $10,000,000,000
Bitstamp Pros and Cons
Pros
Established exchange with a strong track record
24/7 dedicated support
Great security with two-factor authentication and large cold-storage reserves
Robust trading interface with live order book
Competitive and straight-forward fee structure
Cons
Only five currency options
Only supports USD and EUR fiat currencies
Does not support margin trading
Conclusion
In this Bitstamp exchange review, you learned that Bitstamp is a tenured cryptocurrency exchange, operating nearly continuously since 2011. It offers an excellent interface for both new traders and those well-versed in digital assets trading. However, its limited number of crypto options makes it less than ideal for those who want to explore new altcoins and diversify outside the five supported cryptocurrencies. Although Bitstamp is available to people all over the world, it is best suited for people in the European Union due to its low SEPA fees.
Bitstamp's well-maintained APIs also make it a perfect option for implementing your trading strategy with our automated crypto trading platform. Our trading platform provides the tools you need to trade the way you want to while protecting your digital assets in a volatile market. We offer flexible pricing and plans to match the experience level and trading needs for everyone — from beginner to advanced.