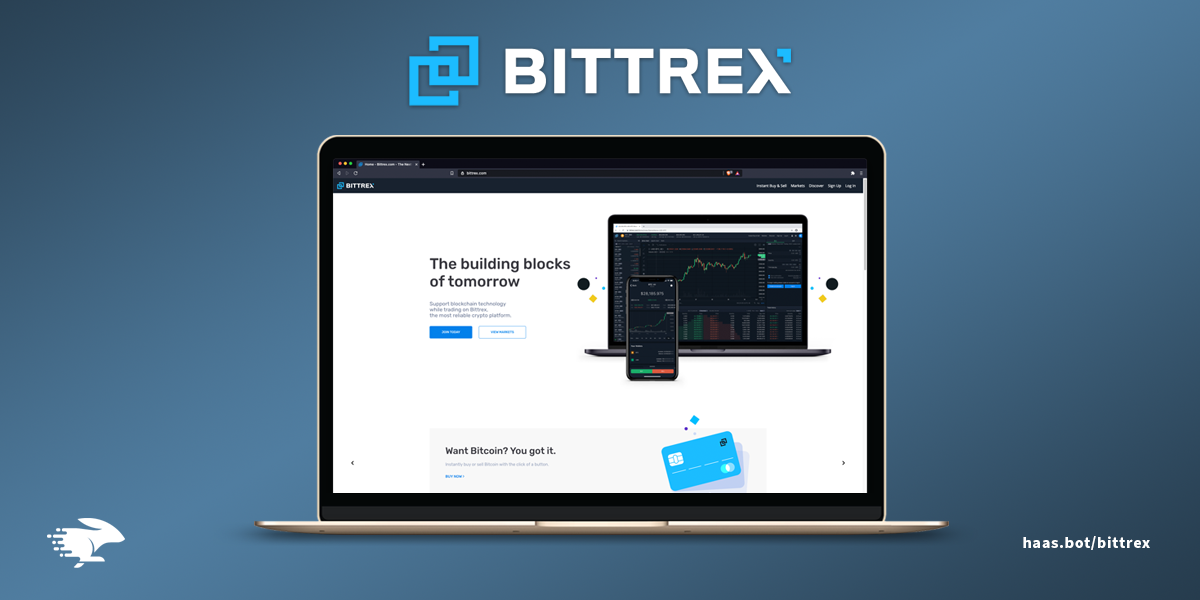 Estimated reading time: 0 minutes
Cryptocurrency exchange Bittrex is considered one of the largest exchanges of its kind as of writing this as well as one of the most secure. As of 2021, Bittrex has yet to be hacked, despite successful attacks on several other cryptocurrency trading platforms like Binance. Currently, over 300 cryptocurrencies are traded on the platform, with a combined 24-hour trading volume of over $66 billion. The crypto exchange often charts in the top three exchanges worldwide.
The company was founded in 2014 by three former cybersecurity engineers: Bill Shihara, Richie Lai, and Rami Kawach. The three have worked for tech giants like Amazon, Blackberry, and Microsoft, and claim to leverage their experience from working in fortune 500 tech security to strengthen their platform and make it a safe place to use for cryptocurrency traders. Bittrex is a U.S. company, based in Seattle, Washington, but has an international branch as well called Bittrex Global.
In our Bittrex exchange review, we'll go over:
What Services does Bittrex offer
Supported Countries
What kinds of cryptocurrency can be traded on Bittrex
Is Bittrex Safe and Trusted
Account Registration & Verification
Customer Experiences with Bittrex
Our goal is to review the public data and help you determine an answer for the question, "Is Bittrex a good exchange?" We'll start with the exchange's services.
Bittrex Review 2023: What Services Does Bittrex Offer?
Bittrex is an online currency exchange similar to a stock exchange for fiat–or conventional–currency. Users can buy and sell cryptocurrencies and exchange one for another. For example, a user could sell a certain amount of Bitcoin (BTC) for an equivalent amount of Ethereum (ETH) in a crypto-to-crypto swap.
One of Bittrex's main benefits is the large number of cryptocurrencies that is available for users to trade. The site boasts around 450 trading pairs for BTC alone, meaning holders of the oldest and most popular cryptocurrency have a wide range of altcoins (alternative cryptocurrencies to Bitcoin) to choose from.
As of this writing, Bittrex allows select fiat trading pairs like USD, so users can use Bittrex to exchange dollars for cryptocurrencies. Users can purchase some cryptocurrencies like BTC, ETH, and Tether (USDT) via bank wire transfer, but that's expensive and archaic. Bittrex users who want to purchase cryptocurrencies with a wire transfer need to have an enhanced verified account and making a minimum purchase of $10,000 USD.
Bittrex claims the following make it an ideal cryptocurrency trading platform:
The exchange platform and its digital wallets are secure.
Bittrex was built to be "elastic" and designed to be scalable so it can fill orders quickly: the company claims they can be filled almost instantly.
Deposits and withdrawals are fast: automated monitoring for new transactions means they are settled very quickly. Wallet information, trades, and balances are updated swiftly.
Dedicated customer support.
They offer access to a large number of cryptocurrencies.
Transparent fees: all maker and taker fees are charged a flat 0.25% fee.
Supported Countries
One of the reasons why Bittrex is so popular is because of their worldwide availability, and this allows the exchange to be used by millions of traders. One thing that should be acknowledged is even though the platform can be accessed around the world, every country has their own requirements for the user verification process. Which included KYC and AML processes.
Bittrex currently operates two different exchanges that share liquidity in order to meet the demands of both US and international regulators. Many of the features remain the same to provide a fluid experience across their exchanges. This also includes a shared API which both exchanges leverage for a seamless HaasOnline integration. However, there are some limitations, for instance users of either platform may not be able to access restricted crypto pairs that are available on it's sibling.
Making Deposits and Withdrawals Through Bittrex
In order to withdraw cryptocurrency from Bittrex, the user must have a verified account. The company says this helps protect users from fraud and abuse related to their cryptocurrency accounts, and helps the company comply with federal regulations like anti-money laundering (AML) and know your customer (KYC) laws.
In order for a user to verify their Bittrex account, they can navigate to the "settings" tab after logging in, go to "my account," then "my profile," then "identity verification." From there, they'll be asked to provide:
An image of themselves, or "selfie," to be matched with their account.
Account details (name, birth date, etc.)
Government-issued identification.
Bittrex recommends users make sure they upload the correct document type when creating their account, avoid IDs that may be unreadable, and not to open multiple support tickets for identity verification to avoid delays in processing.
There are two types of accounts Bittrex offers: basic and enhanced. Basic accounts are limited to withdrawing the equivalent of 3BTC per day, while enhanced accounts can withdraw up to 100BTC in value per day if the account has two-factor authentication enabled.
There are different requirements that must be met for personal and corporate accounts before deposits and withdrawals can be made. For the purposes of this article, all requirements are for U.S. based accounts, and are broken down as follows:
Personal Accounts:
Account identity must be verified by uploading a scan of your government ID and a separate "selfie" photo to confirm the person creating the account is really you.
You must be able to prove that you are either living or operating in an eligible location to do business through Bittrex. Your government ID, address, and form answers must match and prove your location, or prove that your trading takes place in an eligible location.
It's possible to attach a copy of a lease showing your name and an eligible address and a copy of a new state ID to prove identity. If the original government ID you submitted to Bittrex was a US passport, you are then required to attach a copy of an equivalent state-level ID.
Business Accounts
Business accounts can verify their identity by providing one of the following types of documentation that clearly list your business name and address in an eligible location:
Office space lease
Utility bill (water bill, electricity bill, etc.)
Country payroll or personnel tax payment (outside the US)
County or state personnel tax payments (inside the US)
State registration or another applicable state license (inside the US)
Personal accounts have to deposit a minimum of $1,000 per wire transfer, and there is no deposit maximum. The minimum withdrawal amount is $10. Deposits are credited after being settled in Bittrex's account, which is usually the same business day or the next business day. Withdrawals before 9 a.m. Pacific Time are also sent the same or next business day.
Corporate accounts have no deposit or withdrawal maximums, but account holders must email Bittrex at their corporate customer email before withdrawing over 10M USD in a single wire transfer. Deposits are credited the same business day they get settled in Bittrex's account, and withdrawals initiated before 9 a.m. Pacific are sent the same day.
You don't need to deposit anything to create an account on Bittrex, but you do need to have a bank account and be able to prove you're the one controlling it. To do that, customers need to submit a bank-issued letter or an account statement with the following information:
Your name on your bank account
Your bank account number
Your bank's name
What are Bittrex Fees?
Bittrex charges a .25% fee on all trades with the ability to be reduced further based on your 30 day trading volume. If any orders are not fully executed, that fee will be refunded once the order is canceled. They also charge withdrawal fees; each cryptocurrency hosted on the Bittrex exchange charges a network transfer fee to move cryptocurrency into someone's wallet, and Bittrex charges a fee to recoup that cost.
Deposits can also result in a small fee. Though Bittrex doesn't charge directly for deposits, the network for the coin you're moving may charge users a cost to transport the amount of the deposit from their account to the user's digital wallet. There are no fees for fiat (U.S. dollar) deposits and withdrawals. Users should know that their bank may still charge them wire transfer fees, or fees for international banks using intermediaries to move funds.
Is trading on Bittrex Safe?
Bittrex claims to emphasize user security, and user reviews appear to back this up. 80-90% of the exchange's funds are kept in offline–or "cold"–wallets disconnected from the internet to reduce the chances of funds being hacked.
Their digital wallets also utilize a multi-stage strategy, requiring users to have two-factor authentication enabled and limiting withdrawal amounts on accounts that don't. New IP addresses that access a user's digital wallet need to be verified by email every time. Bittrex also lets users whitelist certain IP addresses, providing an added layer of security by telling the system to only authorize transactions from those IP addresses.
While it doesn't seem that Bittrex absolutely requires two-factor authentication for every account, they highly recommend it to increase account security and make it harder for phishing scams to access user's accounts and funds.
Creating an Account
Creating an account on Bittrex U.S. or Bittrex Global starts with creating a username and password. New users will get a verification email from the site verifying their identity. That email will contain a link to log in. From there users can click on the "wallets" page to deposit whatever type of cryptocurrency they'd like.
Users who verify their accounts by taking the extra steps and providing the documentation we outlined above will be able to use more features of their account, make their accounts more secure, and access higher deposit/withdrawal limits.
Customer Experiences With Bittrex
The company makes representatives available to customers through their Twitter and Facebook pages, as well as their customer support page. They do not, however, have a live chat feature enabled.
There have been user complaints that the company takes too long to respond to their concerns, and that some accounts are being shut down without a reason. Their Better Business Bureau page rates the company at an F, and they are not accredited.
Recap
Pros:
Large number of cryptocurrency trade offerings
Secure accounts with user verification and two-factor authentication
U.S. and international options
Cons:
Limited customer support
Numerous complaints of account suspension