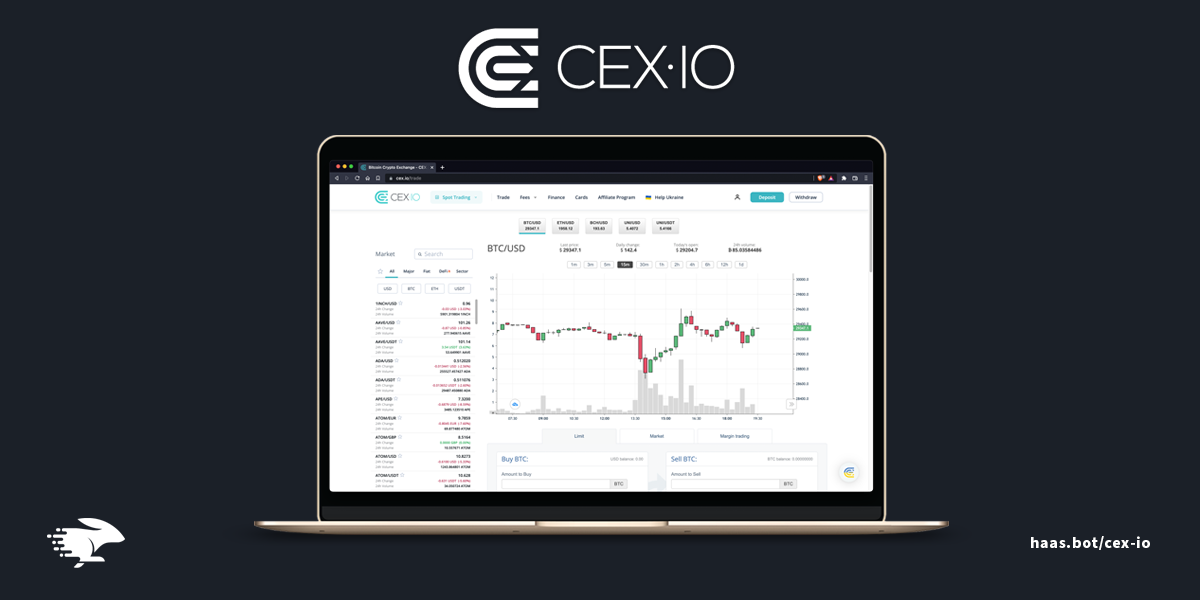 API traders can now add CEX.IO to their roster of cryptocurrency trading exchanges. Founded in 2013, CEX.IO is one of the oldest and most established exchanges in the business which allows HaasOnline users to integrate their crypto trading bots through its API.
CEX.IO charges considerably low trading fees while offering two different APIs with a high level of security and multiple payment methods available to fund your account.
There is also cryptocurrency staking on CEX.IO, along with an affiliate program for users who would like to earn passive income in addition to their trading activities.
In this article, we will review the new trading fee schedule on CEX.IO, available Trading APIs, security and safety measures provided for these channels, and the payment methods available to fund a CEX.IO account.
CEX.IO Trading Fees
Trading fees often become a major cost factor for API traders. High fees eat into potential profits and can dramatically alter trading plans.
CEX.IO has cut its trading fees to help traders optimize their crypto trading bots.
More specifically, CEX.IO offers some of the lowest maker fees in the market when you realize a maker/limit order volume of over $100,000 per month.
While the standard fees are 0.15% for maker orders and 0.25% for taker orders, fees drop in tiers as your monthly trading volume grows. They drop to as low as 0% for maker orders and 0.1% for taker orders if you can manage to generate a volume of $10 million per month.
For a complete and detailed breakdown of the new fee schedule at CEX.IO, including deposit and withdrawal fees, please visit this link – https://cex.io/fee-schedule
Most importantly, trading fees on CEX.IO are significantly lower than major competitors, like Coinbase, Binance, Crypto.com, and Gemini. The table below illustrates CEX.IO's fees versus its competitors. The table shows the different fees in different tiers of monthly trade volumes for both maker and taker orders: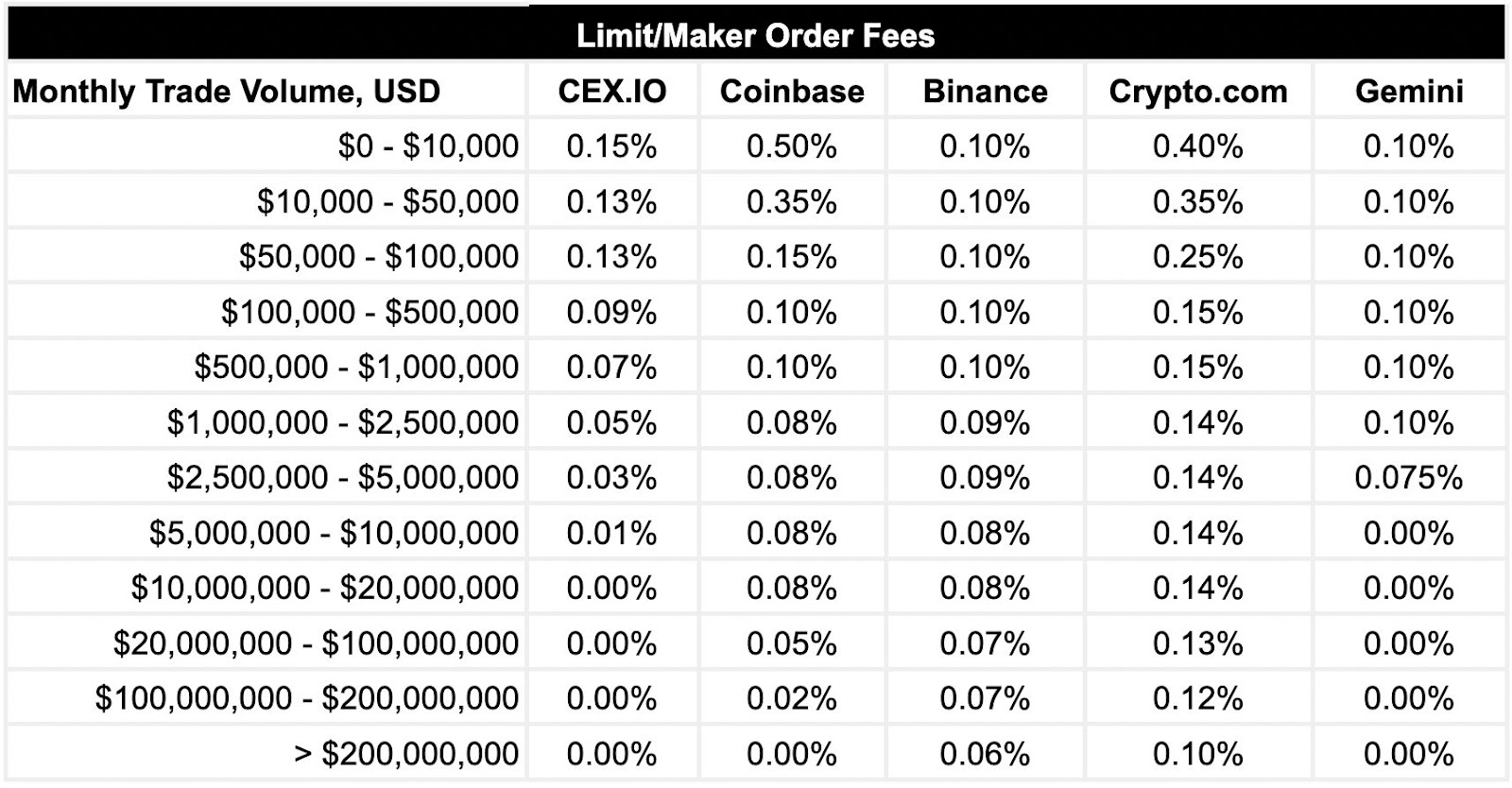 Considering the rates above, CEX.IO can allow HaasOnline users to program as many high-frequency trades as possible for their crypto trading bots without giving away a significant portion of their potential profits to fees.
Registration and Account Levels
To use CEX.IO, you need to register for an account either on its browser website or via the mobile app. You can download the app from the Google Play Store or the Apple Store.
Signing up for CEX.IO is quick and easy, and open to almost anyone 18 and older. To start the registration process, you need to click on the green Register button on the top right corner of the CEX.IO homepage.
On the next page, you will enter your email address, a password you will use to access your account, your name, and your country of residence in the corresponding fields, as you can observe in the below screenshot.
You also have to click the checkbox below to certify that you are at least 18 years of age, and agree to CEX.IO's terms and conditions.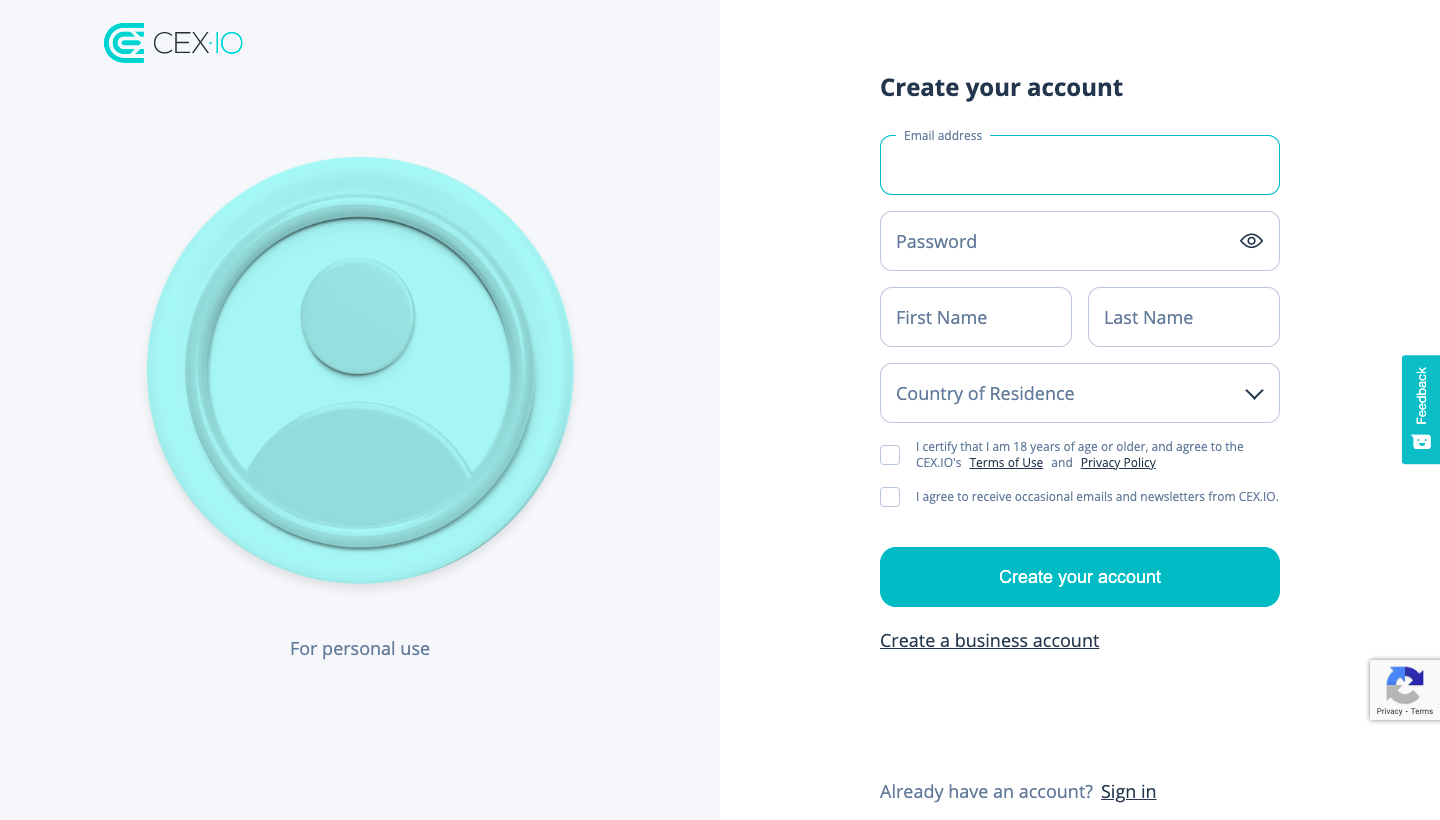 Your CEX.IO account is created once you click on the green Create your account button.
You will then receive a confirmation email from CEX.IO to finish the registration process. In the email message, you need to click the CONFIRM EMAIL button. CEX.IO recommends opening the email message in the same browser that you used to register with CEX.IO.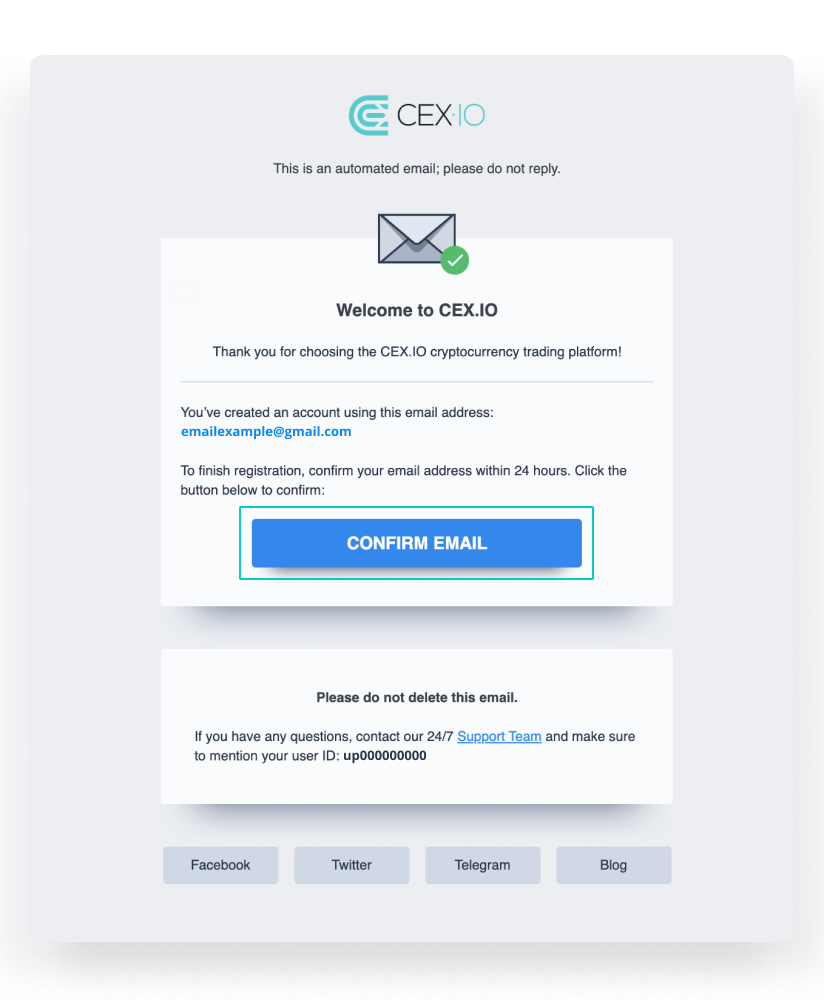 Clicking on the CONFIRM EMAIL button will take you to a separate page on CEX.IO where you need to enter your first and last name again, along with your date of birth: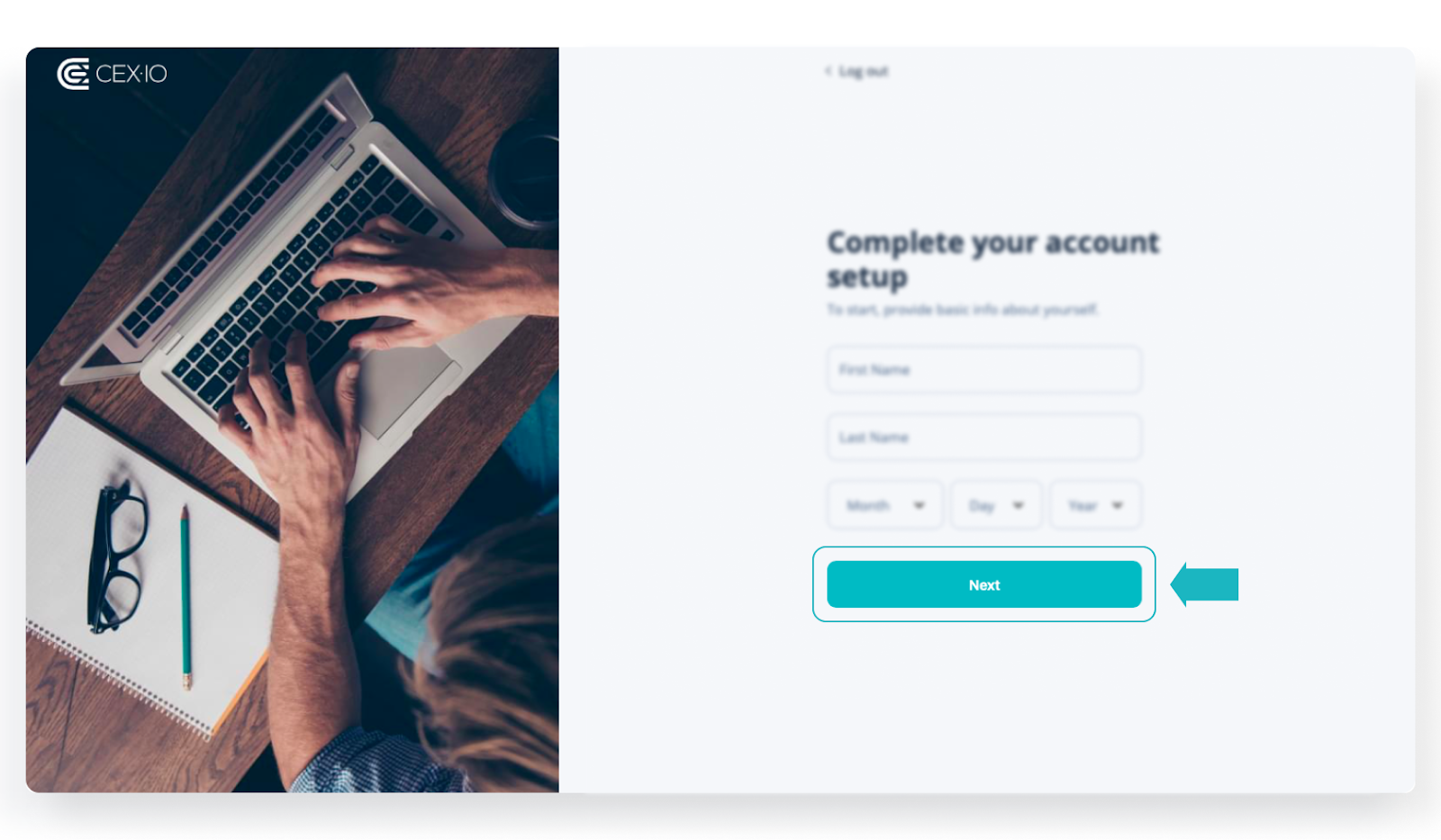 Your account is ready once you click on the Next button.
At this stage, you will have an unverified account with CEX.IO. Please note that unverified accounts can only browse through the tools and menus of the website or the app, but they cannot receive any deposits. Since you would not be able to trade without funding your account, you have to verify your account before trading on CEX.IO.
There are four different verification levels on CEX.IO that allow you to fund your account. Higher verification levels increase your deposit and withdrawal limits.
| | | |
| --- | --- | --- |
| Verification levels | Daily deposit | Daily withdrawal |
| Identity | $3,000 | $10,000 |
| Address | $10,000 | $10,000 |
| Enhanced | Unlimited | Unlimited |
| Corporate | Unlimited | Unlimited |
For more details, you can consult the limits and commissions website.
As you verify your account, CEX.IO will need a few pieces of information, so you might want to keep the following things handy throughout the process:

Valid phone number (for SMS verification)
Government-issued photo ID (identity card, driver's license, or passport)
Real-time "selfie" photo
Social security number (for the U.S. residents)
In the first step of the verification process, you need to indicate your country of residence. If you're a U.S. resident, also indicate the state, county, and your social security number (SSN).
In the second step, you need to submit a proof of identity document – with a photo of you in the document, a "selfie" taken with it, and identity document details (serial number, date of issue, issuing country, expiration date).
Within an hour of applying for identity verification, you will receive a confirmation email regarding the outcome of the verification.
To unlock other verification levels, such as Address, Enhanced, and Corporate, you can go to the limits and commissions page and follow the necessary steps.
Connecting to a CEX.IO API with HaasOnline
CEX.IO trading bots operate with the two most commonly used APIs in the industry – REST API and WebSocket API.
By connecting to CEX.IO with the REST API, you can receive real-time price feeds from the exchange for over 200 different markets, access their price charts, view trade history, and access your account balance and open orders.
With the WebSocket API, you can subscribe to order books and place orders on the exchange in addition to the things you can do with the REST API.
Using HaasOnline to deploy a trading bot on CEX.IO API channels is a great way to automate your cryptocurrency trades, which can save you significant time and effort and give you flexibility in your daily life.
Automated API bots can dramatically increase the speed of trading, eliminate emotional trading, trade multiple markets simultaneously, and take advantage of arbitrage opportunities across different exchanges.
The HaasOnline software supports over 50 technical indicators. By using these technical indicators, you can create high-quality signals for your trading bots to submit orders whenever the conditions you have set are met.
Integrating HaasOnline trading bots with your CEX.IO account is simple. The configuration should only a few minutes (if the HaasOnline Trade Server is already installed on your computer). The specific algorithms you need to connect to the REST API and WebSocket API channels can be found at this link – cex.io/cex-api
You can either copy and paste the relevant algorithms directly to your terminal, if you have NodeJS, or adapt them accordingly to your programming language.
Additionally, CEX.IO has a Github repository, where you can access all the API instructions developed in different programming languages to date. These include integrations to your terminal in Python, Node.js, Java, and C# languages.
HaasOnline never takes fees from your trades on CEX.IO or restricts the execution of trades based on account activity.
Payment methods to fund your CEX.IO account
CEX.IO offers a plethora of payment options to fund your account.
The fastest way to deposit funds is to link your Visa or Mastercard credit or debit card to your CEX.IO account. When you add a credit or debit card as a payment method, you can instantly buy fiat or cryptocurrency on CEX.IO with the Instant Buy function.
In addition to cards, CEX.IO customers located in Europe can deposit fiat funds with SEPA transfers. Customers around the world can make bank transfers using methods which include ACH transfers for U.S. banks, Faster Payments transfers for U.K. banks, and SWIFT transfers for anywhere else around the world.
Payment methods on CEX.IO are not limited to traditional intermediaries. CEX.IO has recently added PayPal as a payment option for your cryptocurrency and fiat currency purchases. You can now link your existing PayPal account to your CEX.IO Wallet.
GooglePay and ApplePay are also available on CEX.IO.
There are no deposit limits for card payments, SEPA, ACH, and SWIFT transfers while the daily funding limit is $100,000 for domestic wire transfers and £250,000 for Faster Payments transfers.
Digital payment platforms also have a daily deposit limit of $1,000 for PayPal, GooglePay, and ApplePay transfers.
Security and Safety
CEX.IO stores digital funds under its custody in a combination of hot and cold storage. Hot wallets are always connected to the internet and funds in the cold wallets are stored offline.
The exchange allocates customer funds between hot and cold wallets according to daily trading volumes as well as deposit and withdrawal activity from wallets.
Security and safety for hot wallets
Since a hot wallet is always connected to the internet, it is inherently riskier to use than a cold wallet. Because of this, only a small portion of the assets held by CEX.IO are kept in hot storage. The funds held in hot storage are usually the company's funds used to support the daily cryptocurrency circulation on the platform.
Hot wallets facilitate transaction activity on the exchange and are completely automated. After a transaction is finalized, the amount is automatically debited or credited to the user's individual account, which is kept in cold storage.
On the other hand, client deposits are moved to cold wallets daily, so that only funds that belong to CEX.IO remain in hot wallets at the end of every day. This has become a standard practice in the cryptocurrency exchange industry.
Below are the security standards that CEX.IO follows for its hot wallets:
Finance and compliance controls: Per CEX.IO's "Multiple Controls" principle, every transaction that involves a hot wallet undergoes a separate check from both the Compliance and Finance departments.

Security for data storage and handling: For its hot wallets, CEX.IO enforces the top security standard adopted by credit and debit card providers – PCI DSS Level 1, and regularly audits the compliance elements associated with this standard.
Security and safety for cold wallets
On CEX.IO, 100% of client funds for major cryptocurrencies like Bitcoin and Ethereum are stored in cold wallets. For the most recently listed altcoins, the ratio of funds stored in cold wallets is close to 100%. Any automation is excluded, and manual processes lie at the core of cold wallets.
Security measures for cold wallets usually involve manual processes:
Multiple Signatures: CEX.IO's "Multiple Controls" principle is implemented via a multi-signature process in cold wallets. An authorized person can initiate a transaction, but confirmations from multiple authorized people are required to finalize the transaction.

Address whitelisting: Funds from cold wallets can only be transferred to the whitelisted CEX.IO hot wallet addresses and only after the reconciliation of all balances. With this feature, hackers are unable to withdraw the funds in the cold wallets to an unauthorized wallet.
Safety for fiat funds
Fiat funds of users are stored in separate bank savings accounts that CEX.IO partners with. This officially means that only CEX.IO customers can have a claim on those funds.
Regulation and compliance
CEX.IO is a regulated financial entity that holds Money Services Business status with FinCEN (USA) in 48 different states.
Since it is a regulated exchange, CEX.IO holds a mandatory KYC/AML process for every user it serves.
Additionally, CEX.IO has built a proprietary set of rules, called the "Expert System", which continuously monitors all digital asset transactions for irregular activities. Whenever odd behaviors are identified on the CEX.IO exchange, alerts go out to the Compliance and Finance teams to review suspicious activity.
Staking
To supplement their potential profits from API trading activities, traders can make passive income by staking their cryptocurrency assets on CEX.IO.
If you keep cryptocurrency coins and tokens in your CEX.IO account, CEX.IO pays you automatic interest. You do not need to do anything additional to stake coins or tokens on CEX.IO, like transferring the balance from your exchange account to a separate staking account. This is because there are no staking lock-ups on CEX.IO.
Interest rewards are calculated every hour and sent to your account wallet once a month on a specified date.
Since there is no lock period on CEX.IO, users can withdraw their staked coins at any time. This allows CEX.IO users to stake and trade simultaneously. For example, users can submit limit sell orders on their staked coins. This way, you can realize the profits made from any significant price hikes or stop-loss your trades to prevent losses from sudden, unexpected market crashes.
CEX.IO provides auto-staking for 14 different cryptocurrencies, including a 23% estimated annual yield (EAY) for KAVA, 14% for Kusama (KSM), and 11% for Zilliqa (ZIL).
Affiliate Program
Another way of generating passive income with CEX.IO is to join its affiliate program.
You can sign up to become a CEX.IO affiliate marketer and earn a 30% commission on the trading fees of your referrals. There is no time limit for this program, you'll be able to earn 30% commissions on your referral trades for lifetime.
CEX.IO – a multi-functional crypto exchange
CEX.IO offers the necessary API tools to develop and integrate trading bots (in conjunction with the HaasOnline software) which can help optimize your automated trading strategies. In return, the speed of your trading may increase while trading multiple markets simultaneously and taking advantage of arbitrage opportunities across different exchanges.
You can also benefit from CEX.IO's passive income products such as cryptocurrency staking and the affiliate marketing program.