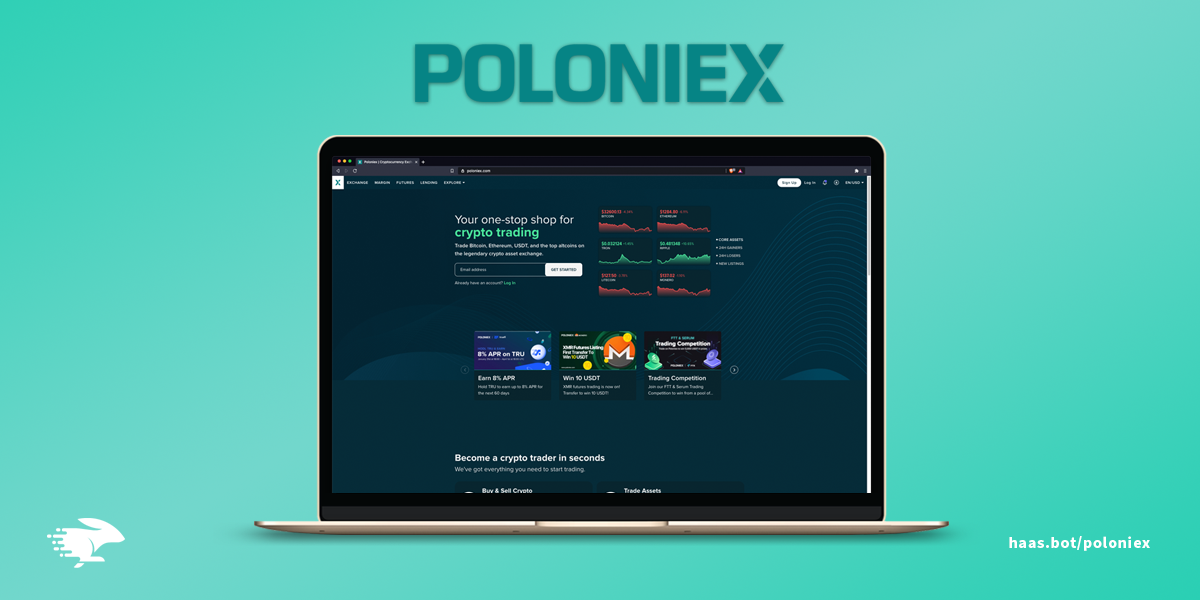 Estimated reading time: 0 minutes
Poloniex is one of the oldest and best-known cryptocurrency exchanges in the world. Founded in 2014 in Delaware, USA, by Tristan D'Agosta, the exchange went on to trade some of the largest volumes and have one of the biggest variety of altcoins in the industry.
First and Foremost: Is Poloniex Safe?
Poloniex had some challenges in its early years. Shortly after its founding, it was hacked and lost 12.3 percent of all funds. The company handled the loss with professionalism, withholding a percentage of funds so that it could rebuild, and repaid all of its customers in short order.
Poloniex fully recovered and in 2018 was acquired by Circle, a financial startup backed by Goldman Sachs, for $400 million. Since then, Poloniex has become a top-rated exchange for security.
Industry-Leading Safety
Poloniex has come a long way since the hack that shook its infancy. Early in 2019, an independent Exchange Security Report by Icorating ranked the platform third out of more than 130 independent exchanges. Scores for the Poloniex exchange review include:
4/4 for account security
3.5/4 for registrar and domain security
8/10 for web security (no exchange scored higher than a 9/10)
1/1 for DoS attack prevention
Overall score A-
Poloniex was the highest-scoring exchange to receive an A- rating. There were no A+ ratings and only two straight-A ratings.
How does Poloniex protect traders?
All assets on the platform are insured.
Poloniex stores most user funds offline in cold storage.
All exchange activity is monitored consistently.
Identity verification is required for use
Poloniex Verification
Poloniex offers three levels of user verification.
Level 1 requires verification of name, email address, and country of residence. Level 1 users can withdraw up to $2,000 and participate in margin trading.
Level 2 requires additional information including a scanned photo ID. Poloniex will verify each piece of information. Level 2 users can withdraw up to $25,000.
Level 3 allows for the withdrawal of more than $25,000 and requires users to submit additional information on request.
Poloniex also offers two-factor authentication for login and withdrawal for users at any level.
Poloniex Review: Main Features
Poloniex is an under-the-radar kind of crypto exchange. It's been around since 2014 – nearly forever, in cryptocurrency years – but it hasn't received the same kind of attention as exchanges like Binance or Kraken.
Nevertheless, Poloniex is well-known in the world of crypto trading, and it offers many advantages to enhance the savvy trader. These include:
Margin Trading
On-platform lending at custom interest rates
Options to connect banks and credit cards
More than 60 cryptocurrencies including Altcoins and Stablecoins
Trade on the standard site, mobile site, or mobile app
PoloniDex for trading on the decentralized TRON platform
Buy, Sell, and Stop Limit trading orders available
Supported Currencies and Fees
Poloniex advertises support for more than 60 different cryptocurrencies including alternative currencies (Altcoins) and price-stabilized virtual currencies (Stablecoins). Specific currencies include:
BCHABC (Bitcoin Cash)
BCHSV (Bitcoin SV)
BTC (Bitcoin)
EOS
ETC (Etherium Classic)
ETH (Etherium)
LTC (Litecoin)
STR (Stellar)
XRP (Ripple)
A complete asset list is available on Poloniex's website.
Pros and Cons
Poloniex is more accessible to the experienced trader. Its website is cleanly designed with no frills or hand-holding – a person needs to have some experience with cryptocurrency to navigate it effectively. Beginners may find Poloniex challenging, but it certainly has its advantages.
The Pros
1. Comprehensive asset data
On Poloniex's exchange page, traders will find detailed charts and a current candlestick graph. Visitors to the site will also find, for all supported assets:
Most recent prices
24-hour trade volume
24-hour HLC (high, low, and change)
Sell and buy orders
Trade history
Market depth
The above information is available for each supported currency in four different markets: BTC, USDC, USDT, and ETH.
2. A high volume of trading pairs
Poloniex reviews quote around 100 trading pairs. The exact number has changed several times during the past year, evidence of the exchange's commitment to staying current with the market.
In Jul of 2019, Poloniex added seven USD-Tether pairs. One month later, the exchange removed 23 other pairs due to low volume. All formerly paired assets remain independently tradable on the platform.
3. Mobile-friendly trading
Poloniex hosts a traditional website, a mobile site, and apps for Apple and Android.
The Cons
1. Limited access for US users
The biggest drawback of the site is that because of Polonex's recent spinout from parent company Circle, US customers are temporarily blocked from withdrawing assets. Anything remaining in a US-based account after December 16, 2019, will be withdrawable as Stablecoin USDC in early 2020.
2. Support resources still in development
As mentioned, Poloniex is much easier to use if someone already has experience with crypto trading.
The platform only has two video tutorials at the moment – How to Signup with Poloniex and How to Trade with Poloniex – but it is making more and hopes to release them in the coming year.
Finally, Poloniex offers a publicly available Support Center that hosts explainer pages and FAQs on most aspects of using the site. Support tickets are available for customers but only from non-US accounts.
Poloniex Fees
Poloniex charges margin and trading fees as well as withdrawal and deposit transaction costs. All fees are well-publicized.
Trading Fees
Poloniex uses the maker-taker fee model for transaction charges. The model rewards the market-maker, who offers to buy lower than the market price or sell higher than the market price, by paying out a rebate when someone accepts their offer. Takers, who buy and sell at market price, have to pay a small fee for removing liquidity from the exchange.
The maker-taker fees on Poloniex operate on a volume-tiered, per-trade basis. Fees range from a 0.15 percent maker fee and a 0.25 percent taker fee for trades under 25K USD to 0 percent maker fees and 0.10 percent taker fees for trades over $20 million.
Margin Fees
When a Poloniex user trades on margin, they pay interest to the customer who lends the necessary credit. The lender determines the amount of interest. Additionally, the exchange charges a fee equal to 15 percent of the interest that the borrower pays.
Deposit and Withdrawal Costs
The deposit and withdrawal costs that Poloniex charges are intended to cover the cost of posting the transaction to the network.
Getting Started on Poloniex
Easy signup is one of Poloniex's major selling points. Level 1 users can get going in seconds, though higher-volume trading is a more involved process.
Opening an Account
The registration process on Poloniex starts with a visit to the signup page. Level 1 access just requires a verified email and password. To trade above $10,000 per day or participate in margin trading, a user needs to upgrade to Level 2.
A confirmation email after sign-up takes the new trader to a sign-in page. Once inside the protected site, users have to enter their current contact information. US-based users have to enter Social Security numbers.
The next step is ID verification via a passport, ID card, or driver's license. Poloniex recommends that users do this by photographing both sides of the ID. The platform also takes a photograph of the user's face to cross-check with the ID.
Depositing Funds
Poloniex offers three options for account funding:
Depositing cryptocurrencies on-chain
Wire transfer from a linked bank account
Purchasing Bitcoin using Poloniex's payment processing partner Simplex
Only verified accounts in good standing are eligible to purchase Bitcoin through Simplex. The cost is the greater of $10 or 3.5 percent of the transaction, charged by the payment processor. The supplier of the crypto asset will also apply a spread to the purchase.
Generating an API Key
To use the Poloniex exchange from a third-party site like HaasOnline, you need an application programming interface (API) key. Poloniex provides thorough instructions for securing a public or private API. Options include:
Public HTTP API, which allows read-only access to public market information. There are seven public HTTP API options available.
Private HTTP API, which enables read-and-write access to users' private accounts. All queries are sent using POST parameters to HTTP and must include a "nonce" parameter.
Websocket API, which is readable by any WebSocket library and allows access to data channels via subscribe and unsubscribe requests.
More information and step-by-step instructions are available online. Users with some programming knowledge will find the directions easiest to follow.
Poloniex Review Conclusion
Poloniex is an attractive platform for experienced traders who know how to use available information. It partners well with the HaasOnline crypto trading platform, which features programmable automated trading bots.
With a HaasBot, users can trade on Poloniex with nearly any level of bitcoin experience. Sign up for three, six, or twelve months with a Beginner, Simple, or Advanced plan. Discounts are available for annual billing; Advanced plan subscribers can also save with biannual billing.
Interested in learning more? Check out our platform features and pricing plan details, and see how you can get started trading on Poloniex and other leading crypto exchanges. You can also learn more about how cryptocurrency exchanges work and compare Poloniex with other options to build the best trading strategy for your needs.