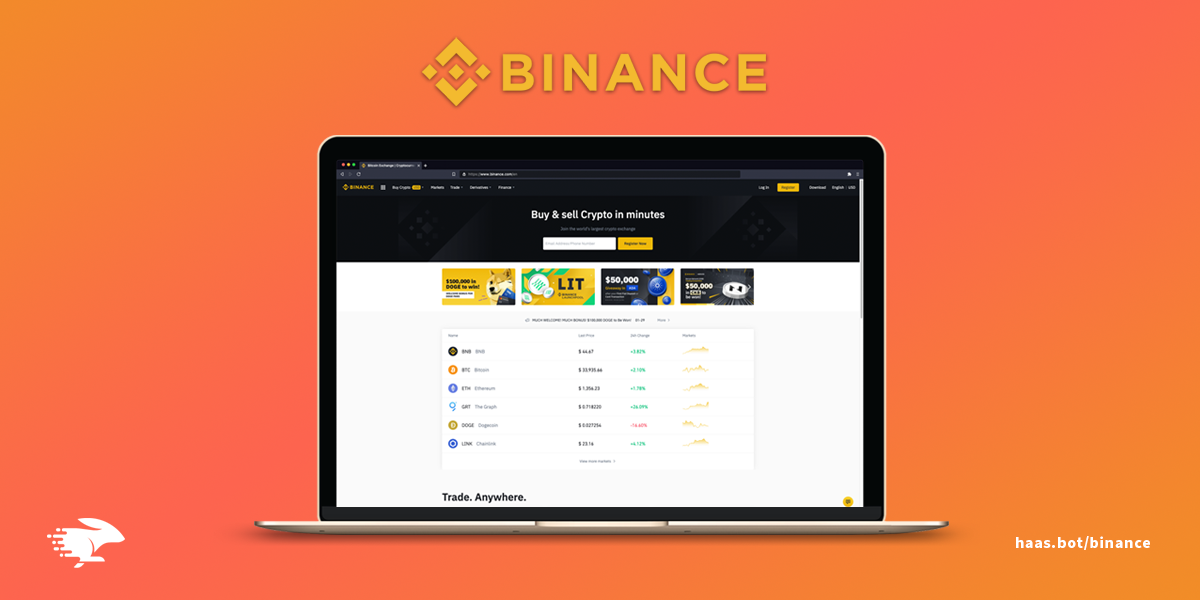 Estimated reading time: 0 minutes
If you're connected to the world of cryptocurrency or crypto trading, you've probably heard of Binance trading bots. Binance was launched in 2017 by developer Changpeng Zhao, the online cryptocurrency exchange platform has since become one of the largest in the world.
Binance started in China, but is currently headquartered on the island of Malta in the EU, a hub of cryptocurrency-related businesses due to their favorable regulatory environment. The move was due in large part to the Chinese government's negative view of cryptocurrencies and strict regulation.
When Binance launched in 2017, cryptocurrencies were doing very well in the market, propelling interest and investment. That, coupled with the limited availability of legitimate cryptocurrency exchanges at the time, created a formula for Binance's success.
The platform has over 400 cryptocurrency trading pairs on offer, with an average daily trading volume of 1BN USD, according to the company's website. They claim almost 1.5 million transactions a second take place on the exchange.
Binance does not appear to directly offer fiat-to-cryptocurrency trading pairs but recently partnered with another crypto exchange, Paxful, to facilitate fiat-to-crypto trading. They also offer their own native cryptocurrency token called Binance Coin (BNB) which we'll come back to later on.
Binance has its hands in numerous other projects besides the exchange, all related to cryptocurrency or blockchain technology. Binance Academy, for example, is a free site where those interested can educate themselves about cryptocurrency and blockchain technology. Binance Labs is their research and development arm publishing detailed reports on blockchain tech. Their nonprofit Binance Charity donates disaster relief items, food, and sanitary supplies to communities in need.
The company started small but has managed to raise millions in funding and grow exponentially since its IPO in 2017. In our Binance review, we'll go over:
What cryptocurrencies Binance offers to trade.
How to trade on Binance.
How secure is the platform?
What customers have to say about the exchange.
Is Binance the best cryptocurrency exchange around right now?
We'll start with some basics on the platform, but before we do, a disclaimer: none of this should be taken as financial advice. We're simply laying out the facts of this particular exchange for interested traders to take in and use to make up their own minds.
Binance Review 2023 – How Binance Works
Binance is an online financial exchange where users can buy, sell and trade any kind of cryptocurrency with trading pairs offered on the platform. As of this writing, Binance offers trading pairs for over 100 different cryptocurrencies.
The company offers two trading modes to users: basic and advanced. First-time users with some knowledge of cryptocurrencies and exchanges should be comfortable using the basic option. As they become savvier and increase their holdings, they can move to the advanced layout.
Basic view offers all the relevant stats traders might need to know on their cryptocurrencies: charts and graphs to track the value of the pairs they're currently trading, order books, and their trade history. The advanced view gives a more detailed layout of currency values over time.
Creating an Account
In order to start trading, users need to create a Binance account on the platform. The process is fairly standard: users click "register" on the homepage, then enter an email and password they wish to use on the site. They then receive a verification email to activate the account. Creating an account is free.
There are multiple tiers to user accounts on Binance. Level 1 accounts do not require identity verification but are limited to withdrawals equivalent to 2 Bitcoin (BTC) in value per day. Level 2 users can withdraw up to 100 BTC daily, but need to verify their identity by uploading a photo ID, which must be approved.
To verify an account, the user will need to provide:
Their full name
Country
Gender
Photo of passport/government-issued ID
A selfie
Even higher limits are available for some accounts, but that needs to be arranged with Binance directly. It's advisable for users to complete verification before trading anything if they plan to trade large amounts of cryptocurrency.
Deposit and Withdrawal
Once an account is made, it must be funded so trading can begin.
Deposit
Users can deposit cryptocurrency into their Binance account by navigating to the "funds" tab at the top navigation menu, then going to "deposit/withdrawal." A list of cryptocurrencies is available to deposit, and users can choose to purchase any of them to fund their accounts. Users may want to stick with BTC or Ethereum (ETH) at first since they're some of the most common cryptocurrencies.
Once the user clicks deposit next to the cryptocurrency of their choice, they need to wait for it to be deposited. This will take varying amounts of time depending on which cryptocurrency they've chosen; some blockchains are faster than others and can deposit funds sooner.
Once this step is complete, users can begin trading, buying, and selling cryptocurrency. Binance supports all the major cryptocurrencies available as of this writing, as well as numerous initial coin offering (ICO) listings.
Withdrawal
Once logged in, users can navigate to the "wallet" tab in the upper right page menu, then go to "withdraw." After choosing which cryptocurrency they'd like to withdraw from the dropdown list, they can withdraw funds from their Binance wallet and deposit them somewhere else by:
Copying the deposit address from the wallet they want to move the funds to,
Pasting that address into their Binance wallet under the "withdrawal address" section,
Entering the amount they wish to withdraw.
Once a user submits the withdrawal, they'll receive a verification email that is valid for 30 minutes.
Trading on Binance
Binance works in much the same way as most other crypto exchanges, letting users trade in a variety of digital currencies. To load the trading interface, simply go to the "exchange" tab and select either the basic or advanced view.
As we said above, all major cryptocurrencies are supported on Binance, and the platform has over 400 cryptocurrency trading pairs. Those pairs are offered in BTC, ETH, BNB, and USDT, displayed on the right in basic view. Users can choose their desired currency and save lists of favorite currencies. Once a currency is selected, buying and selling prices are displayed on the left-hand side of the screen.
Users will also see:
The display area of Binance Announcements
The display area of the current trading pair in 24h Volume
The display area of the sell order book
The display area of the buy order book
The display area of K-Line and Market Depth
The type of order
The switch area of other trading markets/trading pairs
The display of the latest completed transaction price
The fact that Binance doesn't let users trade in fiat currencies directly has, for the moment, let it avoid regulations that come from dealing in fiat money, but that may change with efforts to regulate the U.S. cryptocurrency space.
Limits and Fees
Binance's fee structure is considered highly competitive. All trades are charged a flat rate of 0.1%, with the option of a 25% discount on that fee if a user chooses to pay it in Binance's proprietary BNB coin.
For withdrawals, the platform charges more varied fees according to which cryptocurrency is being withdrawn. BTC, for example, incurs a .001% fee, while .01 is charged for ETH withdrawals.
There is no limit on cryptocurrency deposits, but withdrawal amounts above 2BTC a day require a verified account. Withdrawals above 100BTC per day require a direct arrangement with Binance.
The BNB Coin
The BNB coin, or token, is Binance's proprietary cryptocurrency. Binance members can trade it, buy and sell it, and use the coin to pay fees on the platform. Since its introduction, the coin has become strong on the platform, outperforming even Bitcoin in 2019.
Binance reportedly has even bigger plans for its BNB token, planning to make it a cornerstone of a future decentralized exchange. Binance plans to make BNB one of the base currencies of that exchange. The company keeps demand for its native coin high by buying back and "burning," or destroying, BNB on a regular basis and controlling the amount circulating in the market.
Is Binance Safe?
The company assures users that their money is safe on their platform, pointing to features like its proprietary Trust Wallet digital wallet. Two-factor authentication is available on all accounts, and the company provides guides to help users avoid phishing scams, ransomware, and other cybersecurity perils. They store assets in more secure offline cold wallets and utilize robust encryption.
The exchange does not, however, have a pristine record. In 2018, a hacking attempt was halted by the site's automated systems, thankfully preventing hackers from getting away with user's money. In 2019 though, it wasn't so lucky; around 7,000 BTC was stolen from Binance users. The company used its Secure Asset Fund (SAFU), kept for just such an occasion, to cover the loss.
Binance Futures
We should also mention that traders now have the option to leverate up-to 125x on BTC/USDT and 75x for both ETH/USDT and BCH/USDT. Their addition of leveraged trading allows Binance to compete directly with other major digital assets platforms that have been offering massive leveraged trading options to traders, such as BitMEX, Deribit, and Kraken Futures.
You can access Binance Futures options without leaving the same platform as you use with Binance. Use caution when trading with leverage as profit margins aren't the only thing that is magnified.
Binance.US
Shortly after Binance launched Binance Futures, they also launched a sister-company Binance.US in late 2019. Binance.US is targeted towards the United States cryptocurrency market and is operated by a separate entity from Binance, they even have their own CEO, Catherine Coley, a former Ripple executive.
Binance.US should be considered a direct competitor to exchanges like Coinbase Pro and they offer similar trading features like a fast, secure and reliable api that third-parties can use to execute trades. Binance.US also offers dozens of USD crypto pairs as well as the top crypto-to-crypto pairs.
Customer Reviews and Support
Binance's customer support seems to be robust, with a contact form on their website, dedicated staff, and chatbot available to answer questions and concerns from users. All responses to support tickets are made via email, and there is no phone number to contact customer support.
Users have complained about the platform's two-factor authentication, calling it buggy and slow. Reviews of customer support staff have been positive overall.
So, is Binance the best exchange for cryptocurrency trading? Many users would say so, but the decision is ultimately up to the user. It's certainly one of the biggest cryptocurrency exchanges around, if not the biggest. Its security measures and emergency fund can also give prospective users more peace of mind about choosing Binance over other exchanges.
Automated Trading
To get the most out of your trades, it makes sense to optimize as much of the experience as possible. Automated crypto trading software can hunt for trades and execute orders without a break, giving you a leg up on the competition. Binance is just one of over 25+ crypto exchanges integrated into HaasOnline TradeServer.
If you're interested in Binance crypto trading bots that can help you execute complex strategies like inter-exchange arbitrage, see how HaasScript and HaasOnline TradeServer can help.